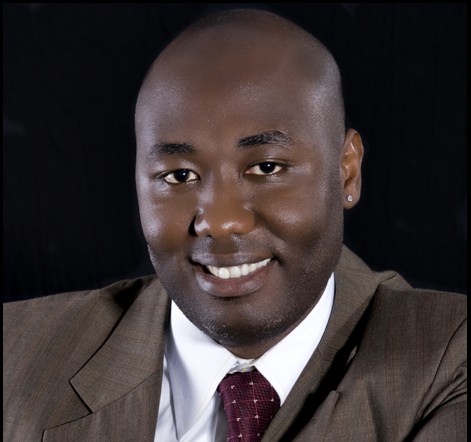 Berny Martin is the founder of Catou, a clothing design company and Midwest Fashion Week, a fashion production company. He was born in Port-au-Prince, Haiti and lived in southern Africa for several years.  Berny is a fashion designer and a fashion producer. Berny's intial career path was engineering with an undergraduate degree in Computer Engineering. However, he stated "I have always envisioned myself as a fashion designer"
How/When did you discover and decide to pursue your fashion designing dream?
Earlier in college I was working in the IT field and I did not feel it would be the future that I wanted for myself. So I decided to invest in myself and went back to school for fashion design.
 Tell us the story behind the founding of Catou and Midwest fashion week.  
For as long as I can remember, I have been interested in clothing and fashion. At eight years of age, I began sketching designs and actually sewed my first original piece, a pair of jeans. That was the beginning of Catou. However, it was not until I was in college that I created my first collection and held my first fashion show. Shortly afterward, I began saving the money needed to make my lifelong dream of creating a label come true.  As founder and owner of Catou, I named the label after my grandmother, Elizabeth Catou Loiseau. She was my sole caregiver for much of my childhood, and during that time she encouraged my creative and artistic talents, which now produce the innovative Catou designs. Edgy and elegant, flirty and sophisticated, Catou clothing makes a statement. Drawing from travel experiences as well as my studies in college and at FIT (Fashion Institute of Technology in New York), I design with a creativity that extends beyond conventional fashion to offer a unique look. I create pieces with the customer in mind, paying attention to detail to guarantee well-made clothing that compliments its wearer. Catou clothing is made to provide customers with sophisticated and ageless fashion.
Midwest Fashion Week (MFW) began in 2006 when Berny saw a need for a Midwest outlet to showcase a range of local to international designers.  MFW is also a power platform to showcase the talents of stylist, photographers and models' … Through the years, MFW has expanded past the traditional fall and spring series of shows. Smaller, private events take place throughout the year with partners. These include; affordable fashion seminars, trunk shows featuring local designers and runway fashion shows.  Berny and his team have raised over $500,000 during events for nonprofits through partnerships with organizations such as the Indianapolis Colts, Indy 500, Coca Cola, Vitamin Water, and Indiana University North Hospital just to name a few.
Were there challenges you encountered as you worked toward branding your business? If yes, please share your experience(s) and how you overcame them.
Yes, there were plenty of challenges and one of them is the ability to identify my market. Every designer has different market to design for. I was very much challenged by my market…
How did you eventually achieve your career goal? Please give step by step detail.
Every successful fashion designer has their own way to success. However, I concentrated on the area of identifying my market. I invest in developing the market that I believe would make me successful and focus on designing for them. First step is to study the market that you want to cater to. Second would be to imagine the lifestyle and the market you want to dress and how you want them to dress.
 How has your business impacted your lifestyle/personality and vice versa?  
Being a fashion designer has not changed who I am as an individual. I made sure early in my career that I stayed grounded to my roots and where I come from. Nothing is going to change me. It was a decision I made and I am glad that I made it. I stayed focus on who I am and neither success or my career or circumstance in life would change my personality or lifestyle.
Recognition and Awards
Catou clothing line has been recognized on BET, MTV, Source Magazine, Indianapolis Monthly, Indianapolis Star, Indianapolis Woman, Indianapolis Business Journal, Indianapolis Recorder, Bella Magazine, Miss Universe Magazine, Power Magazine (Atlanta), Fashion Manuscript, and Focus Magazine (Louisville). Berny was recognize by the United Nations Association Young Professionals in 2009 for his support and menswear fashion designer in the Midwest by FGI (Fashion Group International). Berny and Catou have been featured in Paris Fashion Week, New York Emerge Fashion Week, Brooklyn Fashion Week, Chicago Fashion Week and African Travel Association Fashion Show, and is the main staple of Midwest Fashion Week. "Leading Fashion week in the Midwest" Time Magazine.
Would you have done anything differently toward the current achievements you've made?
 I have no regrets in life and especially towards my mistakes because they have taught me a lot. I don't wish to do anything differently and I am very happy that my life is moving towards the future that I want for myself.
How would you advise someone who aspires to follow your business path or trying to brand their craft?
–How/When to get prepared?
You will need an education and I am not talking about getting a PhD but get some type of education. Even it involves reading up to 100 books.
– What is needed to get there? Patience, education, determination, passion and focus on what matters
– How to achieve success? Everyone has their own way to identify success… Success would need to come from within not external or material things should describe what is success in your life. Stay focused on the objective because there is enough there in the world to throw you down.
What are your short/long-term goals?
We have so many…but one major short term goal is to be in production in Paris, France. Long-term goal is to secure several boutiques and vendors
How do you feel about your achievements at this stage and how fulfilled are you doing what you do?  
It doesn't feel like work because I am enjoying every day of it. Working for myself and getting up every day to achieve my longtime dream.

  For more information regarding Catou's products and events, please utilize the information below. Berny Martin: 

Bemartin@catouwear.com