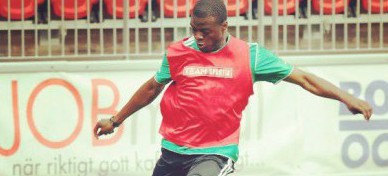 "I wake up every day now just thinking, how can I do more good for humanity?"- Emmanuel Wonder
Emmanuel Adewole, popularly known as Emmanuel Wonder is a professional footballer(soccer player), lawyer, entrepreneur, philanthropist, and fashion designer. He is a Nigerian who was raised in the United Kingdom (London) but currently resides in Chicago, IL and London UK as he travels back and forth. Emmanuel describes himself as an ambitious, passionate, and caring man.
Tell us about your Educational Background. I usually feel humbled when I have to talk about my academics because most people don't associate such intelligence with footballers, but I continually thank my mother for encouraging me to get an education. I also thank my good friend, Nigerian International John Ogu, who was playing back then in Slovenia, for encouraging me to stay in school before turning professional. I received a double major bachelor in Politics and Business Administration from Drake University in Iowa. I also got my MBA in International Business and Entrepreneurial Management. I later went on to get my LL.B. (equivalent to a Juris Doctorate) from The Nottingham School of Law; followed by an LL.M (Masters of Laws) in Corporate and Sports Law.
What were your goals and aspirations as a young boy? How have these matched your current achievements? Honestly, as a young boy I just wanted to make enough money to take care of my mother and brother so she would not have to work so hard. I come from a divorced home so I had no idea what future awaited me. The thought of me playing professional soccer never crossed my mind, however, I remember as an 8 or 9 year old little boy always telling my friends, and family, that I was going to be a celebrity. I guess God heard my request.
It is fair to say my aspirations as a child fueled the desire to become who or what I am today. "Believe me, I'm still a kid at heart." The drive to be successful no matter what I do is certainly the reason for my achievements.  It goes without saying too, God deserves all the glory because without him nothing would have been possible.
Back then my goal and aspiration was to do something for myself and make my family proud. Now, my goals are to change and better someone's life for good. Whether I'm influencing a generation by leaving a legacy behind for them to learn from, or creating opportunities that can positively impact the fortunes of a family; I wake up every day now just thinking how can I do more good for humanity."
How and when did you discover your passion for soccer? What did you do to develop the skills? I knew I had a genuine passion for sports from an early age, but to be honest I never thought it was for soccer due to the fact I never had that "extra-ordinary talent" for it. I remember being in Nigeria and all I did was dribble those little plastic balls, barefooted, in the backyard with my older cousins in Lagos, instead of fetching water. We would play a game called "monkey post" every day during my holiday visits until I found an easy way to score on them; of course. Even when I was in primary school in Ibadan my classmates and I would play on the streets for hours inside the Oluyole Estates. You can also say growing up in East and North London added a spark to my hunger to become a professional footballer. You have Arsenal, Tottenham Hotspur, Chelsea and all the other clubs. I played with a lot of good players at youth level and we all pushed each other.  "I definitely admired Luis Figo growing up, I tried to copy all his moves and still try to wear the number 7 jersey with my clubs because he did."
I had to work hard though, extremely hard, to develop the skills needed to play football at the highest level. I was very good at dribbling the ball and was quite fast, but I also had to overcome many failures and obstacles during the course of developing those necessary skill set to be a professional.  "Speed and intelligence alone will never suffice in soccer." One must develop will-power, mental strength, professionalism and hunger for success. There were days when I woke up at 5am to go for runs and questioned why I was even doing it. There were countless hours I was in the gym at Drake University and the instructor will tell me I was working well below my capacity because he knew I could do better. I was told many times by my coaches I have to improve certain parts of my game as a footballer if I was to be a success. I took the criticisms onboard, motivated myself and pushed my limits. As you can tell, the results were rewarding.
Who were your role models when you were coming up? My mother. The greatest inspiration I've had in my life is my mother because all she ever wanted out of life was to see her kids succeed. In fact, all single mothers across the world are real life super heroes because it is not easy. She prayed for me, motivated me and spent every penny she had to make sure my brother and I never lacked. There were other people that influenced and definitely helped mold my personality. In a way my peers and other footballers that were already playing professionally served as role models of where I wanted to be. Other individuals played significant roles in my life at specific junctions. The list is countless, but Attorney Nathaniel Turner from Indianapolis and his family I owe a great deal of gratitude towards.
What sacrifices did you make to become a great soccer player and how has that shaped your life? No sacrifice is bigger than the other when one is chasing a dream, however, I will say always being away from my family and close friends is immense. I have a very close circle of trusted individuals and I hardly get to see them. I am glad technological advancements help ease that burden. I had to spend countless hours in the gym to attain the strength, power and natural physique to compete. In addition to maintaining a very meticulous and strict diet.
Please share your experience as a soccer player  I am quite simply a forward (winger, attacking midfielder, striker). I play to entertain, win, and score goals. I have played in 8 different countries and been involved in over 100 professional matches. I would say playing in the AFC Cup was probably the best international tournament experience I had. I was part of some championship teams during my college soccer days, but the game of football is cruel, and winning medals at the professional ranks have not come by so easily.
What lesson have you learned on your journey? Perseverance, self-belief, faith and the importance of a strong family support are paramount to any breakthrough or success I have in life.
We discovered that you are the founder of the Wonder Camp, please tell us all about the Camp
The Wonder Camps was founded in 2015. It is an international residential summer soccer camp that invited some top professional footballers, coaches and scouts to mentor and train aspiring footballers for a week. The Wonder Camps aims to offer a diverse learning experience to its designated surrounding population in a manner that allows campers to develop confidence, self-esteem, leadership abilities, and problem-solving skills that translate into scholastic ideologies and principles.
Please give full details about this new sports blog you founded, Garber sports. GarberSports is a cutting-edge football media platform which allows brands, publishers and fans to create rich, engaging content that is distributed globally across mobile, web and social. Premier sports magazine featuring player profiles, investigative journalism and regular features on professional and college sports, and humorous columns.
As a full time attorney and entrepreneur, how do you manage your schedule while yet fulfilling your obligations? It can be challenging; meaning a lot of sleepless nights on various occasions, but it is what I want and it is rewarding. Time management is critical. I have to be committed and disciplined because eventually once all these entities I've started grow exponentially I need to be able to still have the intellect and skill to oversea them all.
What are your goals? That is a very good question. I don't think I have ever set a specific goal for myself to attain, and not met them, but the million dollar question is why I select those goals. It's simple, where there is a need or demand; I aim to innovate the answer. I guess based on that definition you can say I set my life goals solely based on the intents of pioneering something new.  To quote William Gilmore Simms; "Genius is the very eye of intellect and the wing of thought; it is always in advance of its time, and is the pioneer for the generation which it precedes."
What opportunities can you identify in the world of sports to encourage an aspiring athlete and what does it take to make it? There is definitely an opportunity and chance for an aspiring athlete in the world of sports, however, the key thing that will determine if they make it or not is their drive and hunger for it. This is not to say I encourage desperation, however, some chances will only come by once in a lifetime and if one is smart enough that is all that is needed. There are always scouts or people that know someone that can change your future lurking around. If you are talented or "gifted" then realistically all you need is someone just to believe in you and the rest will take care of itself…if it is meant to be. "We humans are all accidental strangers to each other."
Tell us about your businesses. In addition to playing professional soccer, I own Visao International Group, a growing global consulting firm with intermediaries, legal and business experts in almost every industry from across the world. I co-founded GarberSport, LLC (www.garbersports.com), an online sports websites with the intention of turning it into a featured global magazine covering the lifestyle and hot topics of some of the world's best athletes. The WonderCamps; which is an international residential summer soccer camp that invited some top professional footballers, coaches and scouts to mentor and train aspiring footballers for a week.
For 2016, there a variety of project I am working on such being part of a consortium Sports Management Firm in addition to launching two clothing brands "Sanften Geist" (Bespoke, pocket squares, underwear's, the EW7 collection, and shoes), and "Ama'n Clothing", which is a westernized African men's couture.
How would you advise young athletes? Everybody has the ability absolutely to do anything I do and much beyond, and some of you will and some of you won't. The ones that won't, it'll be because you get in your own way. It won't be that the world doesn't allow you to. It will be because you don't allow yourself to. With regards to advise, I always tell young athletes to (i) be respectful, (ii) be humble (iii) be confident in your own ability. Never let naysayers or doubter bring you down. "When people believe something is impossible they will question the attempt, but the word itself says it all I'm-Possible."