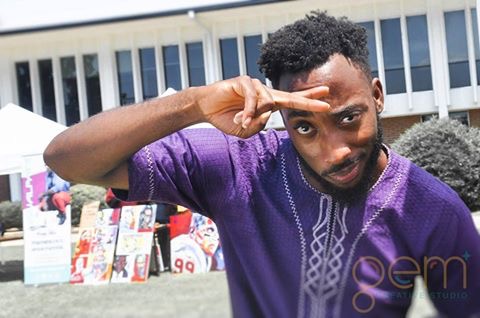 Chukwunonso Ofili is an artist, entertainer (comedian), and a business owner.  This young entrepreneur continues to gain fame on social media through his comedy group and for his artistic talent. Ofili is originally from Nigeria and he currently resides in Houston Texas.
He is the founder of Wahala clothing line, Co CEO of Wowo boyz, an African comedy group, and he is a caricature/graphic designer under the brand name, Ofili designs. He graduated with an Industrial Design Degree from the University of Houston.
Ofili has been drawing since he was in elementary school,  mainly inspired by his older brothers who could draw exceptionally well. He has however significantly improved his drawing skills since then through constant practice. Ofili stated, " I love drawing."
In addition to his artistic tendencies, Ofili has always had  an unrelenting entrepreneurial mindset which led him to launch Wahala clothing line in 2011. This clothing line blends the African culture with western style.
This talented young man also likes to make people laugh. He started his journey into comedy during his undergraduate years in the University of Houston where he served as the Vice President of the Nigerian Students Association.  He would host school events which later extended to other events within Houston. Ofili has since then been privileged to host African celebrity shows for the likes of Flavor and Psquare.  He later advanced into standup comedy while collaborating with friends to form a group called WowoBoyz. This group of young men perform short skits and post them on social media where they receive several favorable feedbacks encouraging them to do more. Ofili expressed that his major challenge as an entrepreneur, is being able to balance time between each business and having the right mindset to focus on his craft.
When asked about how entrepreneurship has influenced his lifestyle, Ofili replied stating "I am famous to some extent and I have to be careful about how I act. I am trying as much as possible to be myself regardless of the level of fame."
Marketing Strategy – Ofili has effectively utilized social media to promote his work and business. He would draw American celebrities and musicians who inspire and  post the drawings on instagram and facebook. He mentioned "that got me more businesses. For example, I once drew a picture of Beyonce and people loved it." Ofili shared that whenever he knew of any African celebrity visiting Houston for shows, he would draw their pictures and present them at no charge.
Ofili's marketing strategy for his clothing line was to print conversation prompting phrases or words on t-shirts. He would also print words relevant to current occurrences people can easily relate with.
Achievements
He sold more than 300 t-shirts when he initially launched his clothing line in 2011
Comedy – First Video (African Halloween) – 1000 views in the first 12 hours
Ofili recently won the Next Generation Award 2015 as the Best artist of the year.
Ofili's advise on how to achieve success.
"STOP THINKING, START DOING. If you have the talent, don't stop.  Someone who matters will eventually find you. "
For more information about ofili designs and products, visit, http://ofilidesigns4u.bigcartel.com/
Relevant Links:
http://www.negaawards.com/winners-of-n-e-g-a-2015/