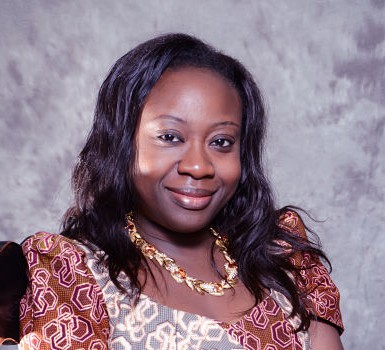 "Start small, and then go big"…….Lara Daniels
Olubunmi Akindebe, popularly known as Lara Daniels shares her challenges, successes, and goals, as a writer.
What is your African Country of Origin and where do you currently reside?
I am a Nigerian. I currently reside in Texas with my family.
What is your profession?
I'm a Nurse and a self-published author of African fiction and I'm extremely proud to be both. I currently work as a patient nurse educator and I'm very passionate about empowering patients and patients' families with knowledge/information. As a writer, I write short stories and African romance novels – and I'm equally passionate about that as well…like they say, the power of the pen is more dangerous than the power of a sword.  One's life can turn around, instantly, when you read something penned by somebody.
Who is Lara Daniels and how did that name come about?
Lara Daniels is a pseudonym – and she's a writer. She writes anything from short stories to romantic novels – but in an African/Nigerian context.
How did you discover your passion for writing?
I stumbled on writing accidentally. As a little girl, I loved to read. And I read a lot.  Reading has a way of opening up and feeding your imagination and when you have a lot of going- ons in your head, you'll have to empty it out somehow. Writing was, and is my convenient emptying tool.
Were there challenges you encountered as you prepared to write your first book? If yes, please share your experience(s) and how you overcame them? Oh yes… the biggest one was ignorance – for example, you've written a book, so what next? What's the difference between printing a book and publishing a book? How do you publish? How do you sell? Where do you sell? Where to from writing this book?  What next? What next? What next?
Writing stories was, and has never been my issue – I have plenty of stories in my head to last a lifetime and then some J…. It's the other part – the non-writing part – the publishing part aka the business part that can be very dicey for many writers and many creatives. It's hard work, a lot of discipline on your part, and if you are going to be considered a serious writer, you'd have to take that part even more seriously that just penning/typing something.
My ignorance was solved in time by time. It takes time to be good in anything you want to do; nobody has all the answers in the beginning, but with time, the answers to your questions come.   Apart from the fact that I had to be proactive about learning, I also had to surrender myself to patience; to learning what I could from my own mistakes; other writers' mistakes; listening to feedback from my readers, and even more importantly, absorbing all of the constructive criticisms I received; and being honest about what I didn't know, then reaching out to ask for help from others who could help me improve, that is, other writers.  I'm still learning and it's a life long journey
Please share your milestones and information about books you have written
August 2009: Published first book, Love in Paradise
December 2009: Named Queen of Hearts by Mimi Magazine
December 2009: Published Sequel: Love at Dawn
2011: Love at Dawn- listed in African Goddess top 10 reads for 2011
2012: Published The Officer's Bride
2013: Published New Beginnings.
2013:  Honored in the Femme Lounge series of "Women who write"
2013: Published Lessons in Love
2013: Novel – lessons in love listed in Weekend's must see, must dos and must have in market woman magazine.
2013: For Wale Taylor, short story by Lara Daniels first airs on radio.
May, 2014: Nominated in the 2014 YadaMag Readers Choice awards
December 2014: Named among Nigerian romance pioneers
Would you have done anything differently toward the current achievements you've made as a writer?
No…Growth is all about walking a journey you've never walked before, making mistakes, then learning from it. Ignorance will continue to be ignorance until you experience certain things for yourself, and then, you can grow. You really can't grow until you take a leap into the unknown.
How do you feel at this stage as a writer and how fulfilled are you doing what you do? What have you learned from being a published Author?
I am happy with where I am. I write every day, and I have several completed and unpublished manuscripts. I'm presently not publishing because I want to devote myself to raising my children….but hopefully, in a time not far away from now, I'll start publishing again. In the meantime, my published works can be found at major book retailers – Amazon, Barnes and Noble, iBooks, Google …basically everywhere good books are sold.
How would you advise someone who wants to become a self-published African fiction writer?
Start small, then go big.   It's a life time journey, so don't be in a hurry to reach the end destination aka the big bucks and of course, the fame. Enjoy the learning process and keep on fine-tuning your craft. You may start a blog – that's a good way to start. Keep learning…keep absorbing…and promise yourself to have fun with it – even when you make mistakes….even if fame and fortune don't come.
 Photo Credit: Dominion Perfect Images