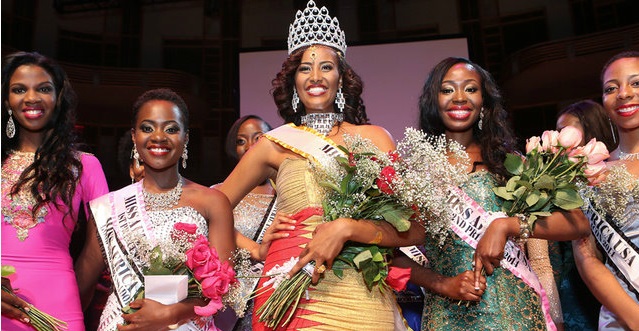 The Miss Africa USA pageant was launched in Atlanta Georgia in 2005 and has become an elaborate  annual event. It is more than a regular beauty pageant, it's purpose is to empower African women with major focus on the leadership and humanitarian service.
The current reigning Miss Africa USA 2014, Meron Wudneh  is from Ethiopia. She has displayed exceptional  qualities through her service to others. She continues to serve as a role model.
The next Miss Africa USA 2015 pageant is scheduled to take place on the 24th of August.
In recent times, preparations are already set in motion through pageant competition and other events to pass the baton the next Miss Africa USA. After careful selection process, the finalists have been chosen to move on to the final stage of pageant. 
Below is a list of the 2015 Miss Africa USA finalists;
Miss Angola – Juliana D'Silva
Miss South Africa -Wendy Nokuthula
Miss Senegal – Zeynab Koroma
Miss Rwanda – Grace Gasoro
Miss Namibia – Fiina Shigwedha
Miss Mauritania – Rahma  Athie
Miss Lesotho – Nthabieseng Abie
Miss Democratic Republic of Congo (DRC) – Noelle Nsamwa
Miss Ghana – Akua Tokunboh
Miss Congo – Maeva  Ikias
Miss Kenya – Fauzy Mohamed
Miss Cameroon – Vinielle Acha-Morfaw
Miss Uganda – May Dimali
Miss Ethiopia – Ruhama Hayle
Miss Nigeria – Frances Udukwu
Miss Guinea – Fatoumata Sy
Miss Ivory Coast – Aurelie Dienhoue
Miss Gambia – Omie Garba
Miss South Sudan  – Eyga Mojus
Miss Sierra Leone – Binty Koroma
Visit  Miss Africa USA Fan Page today, Click on Albums and vote for your favorite African Hairstyle as showcased by the 2015 Finalists. Each Finalist has an Album. Click Like on the best Contestant Hairstyle of your choice.  
For more information, please visit  www.missafricausa.org