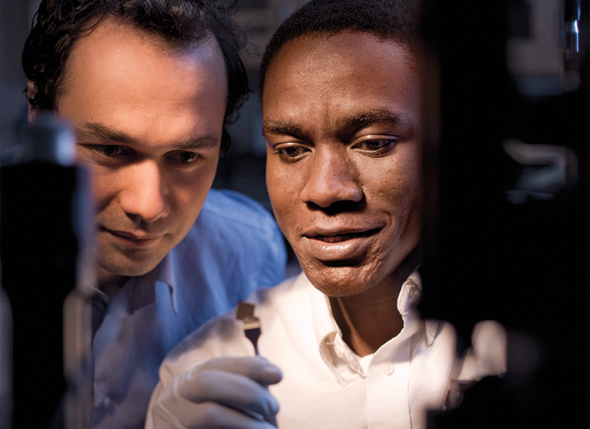 " My passion was always to come up with something that wouldn't save my father, since he'd already passed away, but may save somebody else's parent."
Asanterabi Malima is a Biomedical Device Engineer originally from Tanzania and currently resides in Boston Massachusetts.
Family Background
My family has been in politics for several generations in Tanzania. In fact my father was a scholar and government minister and my mother was also a civil servant. When I was 15 years old, my father passed away with a fatal heart attack at the age of 57. My passion was always to develop some kind of technology to diagnose diseases earlier, to come up with something that wouldn't save my father, since he'd already passed away, but may save somebody else's parent.
Tell us about your educational background and your profession.
I received a PhD in Electrical and Computer Engineering at Northeastern University, Boston, MA. I'm a biomedical device engineer and an entrepreneur involved innovation of various breakthrough technologies ranging from healthcare, education and games.
Please share the Highlight of your career.
In 2011, as a leader of my graduate student team, I led my team to participate in the Center for Integration of Medicine and Innovative Technology's (CIMIT) Prize for Primary Healthcare Prize competition. Our team project, "Highly Sensitive Micron Scale In-vivo Biosensor for Multiple Biomarker Detection," was selected among the top 10 in the nation with $10,000 prize. This prompted us to consider forming a company Biolom, to commercialize our product for early detection of diseases such as cancer and heart diseases.
Tell us about Biolom and state some of the awards/recognitions you've received.
Governor of Massachusetts Deval Patrick Entrepreneurial Award on June 18, 2014. This award is given to an individual (Dr.Malima) who has contributed to the economic well-being and vitality of their community including growth of business and employment opportunities
 Outstanding Paper Award, A. Malima, J. Upponi, S. Somu, and A. Busnaina, "Biosensor for early detection of cardiovascular disease biomarkers", 2013 ASME Global Congress on Nano Engineering for Medicine and Biology, February 4-6, 2013, Boston, MA
 Entrepreneurial Lead for National Science Foundation (NSF) Innovation-Corps in Fall 2012, received a $50K grant for technology commercialization study, NSF and National Collegiate Inventors and Innovators Alliance (NCIIA) organized the event in Atlanta, GA
 CIMIT National Competition top 10 Finalist, in 2011 "Highly Sensitive Micron Scale In-vivo Biosensor for Multiple Biomarker Detection" project was selected by Center for Integration of Medicine and Innovative technology (CIMIT) for Primary Healthcare Prize
Featured on the Boston Museum of Science podcast – "Super Sensitive Cancer Detection", March 5, 2013 – http://www.mos.org/node/373860
 Were there challenges you encountered as you worked toward your professional goal? If yes, please share your experience(s) and how you overcame them.  
In entrepreneurship there are many challenges, and problems keep on evolving everyday. Success is determined by your ability to overcome those problems. I've learned that it's one thing to invent a new technology through research and entirely another to develop a new technology into a commercial product. These are two completely different ball games. Identifying the customers for the developed product or products is an ongoing process, especially if the developed technology can be used for various applications. Also, for a product to have any value in the market, it is crucial to understand customers' needs before developing a commercial product.
What did it take to excel in spite of the cultural difference as an African in Diaspora?
In general, all start-ups have a lot of problem and they keep on coming daily. Culture difference was not a hindrance in any way it just gave us the extra drive to learn quickly and adopt to the "fast pace, quick execution and perfectionism"
Would you have done anything differently toward the current achievements you've made?  What has helped you to attain the level of success you have achieved at this time?
It would've been helpful to learn early and understand the market quickly.  Having Mentors have helped me to attain success.
What are your short/long-term career goals?
I see company such as Biolom revolutionizing healthcare not only in diagnostics but treatment of various diseases affect our communities in Africa. We need to develop unique skills and acquire special tools to solve our own problems in Africa. If I'm fortunate enough to be part of that solution I'll be happy – that's my goal and ambition…
How do you feel about your achievements at this stage and how fulfilled are you doing what you do?
I feel like I'm just getting started, until significant portion of the diseases that affect our lives on daily basis are overcome either by Biolom or other similar technology – the work continues…
What do you like to do at leisure?
Play basketball, sightseeing, listen to music.
How would you advise someone who aspires to follow your career path?
-How/When to get prepared? – Start learning very early
– What is needed to get there? – Relentless drive
– How to achieve success? – Persistence and Perseverance
-Any other useful tips/advise? – Just do it
Please share your business information (webpage: www.asantemalima.com, twitter: @AsanteMalima )