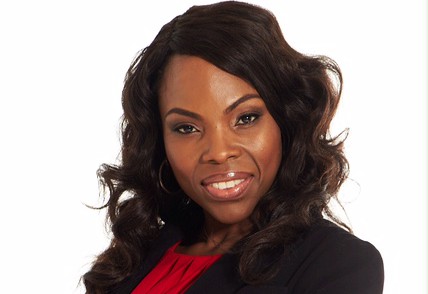 Yvonne Ruke Akpoveta is a multifaceted entrepreneur. She is also an Author, Speaker, Change Management Consultant and a Certified John Maxwell Leadership Coach.  She is originally from Nigerian and presently resides in Toronto Canada. She was recently recognized as a 2015 role model at the Black Canadian Awards.
Tell us about your background (family and education). I am Urhobo from Delta State, and also half Akwa Ibom State from my mother's side. I grew up in Lagos, and went to secondary school in Cross River State, Federal Government Girls' College Calabar. Went to university in London, England, where I studied Business Information Technology and Marketing. And also have an MBA from Warwick Business School in England. I have had the opportunity to work in England, Nigeria and Canada, and see it as a blessing.
Tell us about the inception of Oliveblue. OliveBlue was first conceived and formed in London, England over 12 years ago. I wanted something to represent my desire to start freelancing as a consultant and business coach.
Is this what you've always envisioned yourself doing? If not, what was your initial career or business goal and how/when did you discover the path you followed? Yes. What I do is very similar to what I always envisioned, and that was to be a teacher.
What did you do to brand yourself and your skills to achieve your business goals?  What motivates you? I have a marketing degree and background, so having to brand myself and know what to do was not too difficult. I'm passionate about what I do, and because it comes from deep inside, it keeps me motivated and persistent. Above all, I have to say I am very reliant on my faith in God.
As a published author, please tell us about the books you've written and what inspires your writings? I have written two guide and workbooks on Business Start-up and accelerating one's Career, and a book "The Change You Want! Change Your Mindset, and Change Your Life" on Mindset as the key and foundation to achieving your goals. I talk about 21 simple principles you can easily implement to overcome barriers you may not even be aware of, and taking your outcomes from good to great!  I easily find myself writing when I have something on my mind, and most of my writing comes from experience and the work I do with my clients.
What is most rewarding about what you do and include some of your milestones? I find helping people achieve their goals and living a fulfilled life very rewarding. Everyday is a milestone for me.
What are your  goals in terms of your business? I have a book coming out this year, and plan to keep writing and speaking, and in the process continue to inspire others.
How would you advise someone who aspires to follow your path? –How/When to get prepared?  Right now is the time to get clear on what it is you really want, not what others have, but what you want. Clarity is important and the first step before preparing yourself to get there anywhere. You cannot prepare to go anywhere if you are not clear on where you are going. When you get clear, then find out what is required for the journey and equip yourself; knowledge, skills, experience, mentors etc.
What is needed to get there?  Desire, Persistence, Tenacity and Flexibility. I talk about most of these in my book "The Change You Want! Change Your Mindset, and Change Your Life"
How to achieve success? Lol. This is left for everyone to find and define their own path. But one thing I can say is  – have an open mind and be focused.
How can people patronize you for your services? (Website, contact info…) You can connect with me at OliveBlue Website . Facebook . Twitter . Instagram . YouTube You can get more information about the book at www.oliveblue.com/changeyourmindset The Change You Want! Change Your Mindset and Change Your Life is available at: